Love or loathe it, there's always a lot of pomp and circumstance surrounding February 14th and Valentine's Day. It doesn't matter if you're single, dating, or married—the overpriced chocolates, dozens of red roses, heart-filled cards, and expectations can feel a bit overwhelming. At Hyo Silver, while we specializes in signature jewelry, we believe that Valentine's Day is more than what you can see or give. It's also not just about romance, but about love. With our daily routines, we all fall into the trap of doing the same things everyday. It becomes easy to neglect the people that matter most. Why not think of Valentine's Day as giving us a little nudge to show our appreciation—and love— whether expressed through words, gestures, or perhaps a signature accessory.

@chrissyrenee_c: He took her by the hand & she never looked back ✨ I heard yesterday was national spouse day & any day I get to celebrate lovin this dang cowboy is a good 'un!
@angelameyer23: Ain't had a hard life, just had a few hard times, I never thought the day would come when I would call you mine…. you shook me like thunder, I'll be damned if I'm leavin' now.
How are you sharing the love this Valentine's Day?
This Valentine's Day, we challenge you to do a little something special for someone special! It doesn't matter if it's a parent, a best friend, a favorite pet, or spouse—take a few moments this Valentine's Day to show someone you love and appreciate them! At Hyo Silver we want to spread love this Valentine's Day. We simply love love and welcome the chance to reflect on the real people that make our lives special everyday.
So let there be love. In 150 words or less, tell us what you did or what you are doing this Valentine's Day to show appreciation for someone in your life. It can be your main squeeze, friend, parent, pet, or whatever! We'll be sending one lucky participant a prize pack to show our appreciation.
It's a Day to Celebrate Love
In honor of Valentine's Day, we're pleased to spotlight some of the stories and people that make Hyo Silver special.
True Love
@chrissyrenee_c: Slowly overloading insta with day afters & not sorry bout it 🙈 I love reliving them all & I love that rotten little cowboy! 😍
@cowgirlcodi: Had a lot of fun at the McFadden wedding with my person last night! It was a great weekend getaway. I hated to say goodbye and leave today. I swear it gets harder every time. #wedding #funnight #greatweekend #lovehim #hyosilver
Family Love
@k_clark85: Rodeo time with my little guy!#rodeotime #lilcowboy #hyosilver #hyosilverselfie
@ashley_n_hatch: My hero…. #daddysgirl #sanantoniorodeo #letsrodeosanantonio
Puppy Love
@coltonmoydell5.3: That's my boy… #hyosilverselfie
@joshwalls16: We've come a long way, looking forward to another season with the pup! #hyosilverselfie #hyosilver
Animal Love
@britbrit_walker: MY GIRL 😍
@jonstork_music: Ethel, the weekend is that way!!.. Not on the ground with the bugs 🐜 No shows this weekend folks. My lady and I are going to tear down some chicken coops. 🐔
Best Friend Love
@mandilynn.1191: PCSP Frontier Days bull riding with the best friend.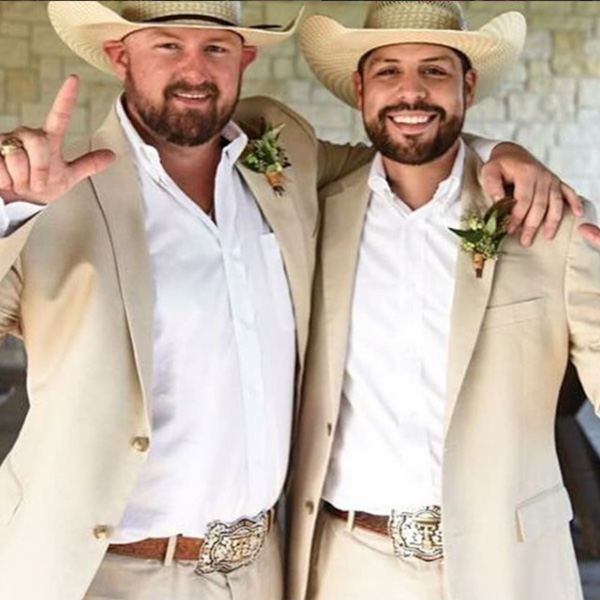 Groom & Groomsmen
LET THERE BE LOVE.